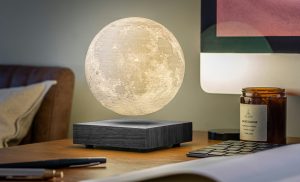 It's quite the desktop objet d'art. Not only is it eye-catching and strangely arresting but I like the way it seems to represent a detailed map of the Moon's surface. Could we count it as educational? (And tax-deductible?…)
We're in the realm of magnetic forces again – using a built-in magnet, the moon is suspended and floats in mid-air. And you can interact with the spinning to slow it down or speed it up.
As you may expect, it doesn't come cheap, being priced at 139 of His Majesty's pounds. Note, however, that you would be supporting a UK business – the (award winning) family business is based in Kenilworth, Warwickshire.
The makers write:
"The sphere, with its textured surface imitating that of the moon, slowly rotates in the space above your choice of wooden base: walnut or white ash. Using a powerful built-in magnet, the moon is suspended and floats in mid-air, creating a stunning and functional piece of design."

"By gently touching the base, you can choose from three different light modes; warm yellow, cool white or warm white, something to suit every taste."
They also highlight the eco-friendly aspects of the lamp: it is made with safe and completely biodegradable PLA material and reclaimed wood. And it comes in a premium gift box.
Specification
Product Material: walnut, white ash, and black wood base with PLA 3D-printed moon
Size of wood base: 120x120x30 mm
Moon Diameter size: 140mm
Product weight: 800g
Power input: 12V- 1A AC/DC adapter (included)
LED power: 1.5 watts
But enough of dry, empty words. Let's get back to the turning. Check out the video below:
See also: ESA infographic – The race to the Moon is on
"The bisque coloured clouds carry their own light,
Marshalled by unseeing stars,
And, above them all, lies the silent sensing Moon."