1 min ago
Kyiv has transformed into a fortress and its residents are determined to defend it
From CNN's Ivana Kottasová
Just two weeks ago, residents of the Ukrainian capital were tending to their shops, teaching schoolchildren or parked at their office desks.
The Russian invasion changed all that. Fighting literally for their lives, civilians, turned into volunteer soldiers, helped construct defenses with military precision — and they are now manning them.
Trenches run deep into the woods that surround the highway leading in Kyiv from the south. Fortified fallback positions are ready for whatever comes next. Huge metal anti-tank barriers known here as "the hedgehogs" because of their spiky shape are placed at regular intervals along the road. And makeshift blockades made of sandbags and huge concrete blocks stand at every exit.
The people of Kyiv are determined to defend their city.
As Russian forces approach, the resolve of its residents is palpable — with many appearing in good spirits.
Some flash a victory sign as vehicles pass by. The blue and yellow national flag can be seen everywhere.
At one checkpoint en route to Kyiv on Tuesday, volunteer defenders were handing out flowers to women in their cars to mark International Women's Day.
Many volunteers do not seem to be dressed warm enough for the freezing weather. They wear civilian clothes, with big coats and sweatpants an unofficial uniform. Their pants are mostly green, black or camouflage motif — not the military kind — but the civilian pattern made for hunting.
Some, but not all volunteers, are armed with automatic rifles and big knives.
Oleksiy Goncharenko, a volunteer manning one of the defense positions in Kyiv, told CNN that he works in four-hour shifts at the checkpoint.
His face is red from the cold. "It's OK. Just cold," he says, adding that "locals are giving us soups and things like that."
Almost 40,000 volunteers joined the Territorial Defense Forces in the first two days after the invasion began, according to the Ukrainian armed forces' chief of staff. In Kyiv alone, 18,000 picked up weapons when authorities called for volunteers and reservists to do so.
Those who couldn't join the forces (so many people signed up that the Territorial Defense Forces had to start turning people away) are helping in other ways.
They are making Molotov cocktails, sewing camouflage nets for barricades, distributing food, hot drinks and cigarettes to those standing guard. They are raising money for the military, building more road blocks and even painting over traffic signs in an attempt to confuse invading forces.
Read more here.
19 min ago
Putin orders import-export ban on certain products for 2022, state media reports
From CNN's Gena Somra
Russian President Vladimir Putin has issued an order to restrict or prohibit imports and exports of certain products and raw materials from Russia in 2022, but a list of those products that will be restricted and/or prohibited has yet to be defined by the government, Russian state media RIA reports, quoting the decree on special foreign economic measures aimed to ensure Russia's security.
The government will have to define the list of states to be covered by these decisions within two days, RIA says, but adds these restrictions will not cover products or raw materials being transported by citizens for their personal needs.
Putin's ban comes as US President Joe Biden announced Tuesday that his administration is banning Russian energy imports — including oil, natural gas and coal — in response to Russia's invasion of Ukraine.
2 min ago
Zelensky addresses reports of UN email which advised staff not to refer to Russian invasion as a "war"
From CNN's Gena Somra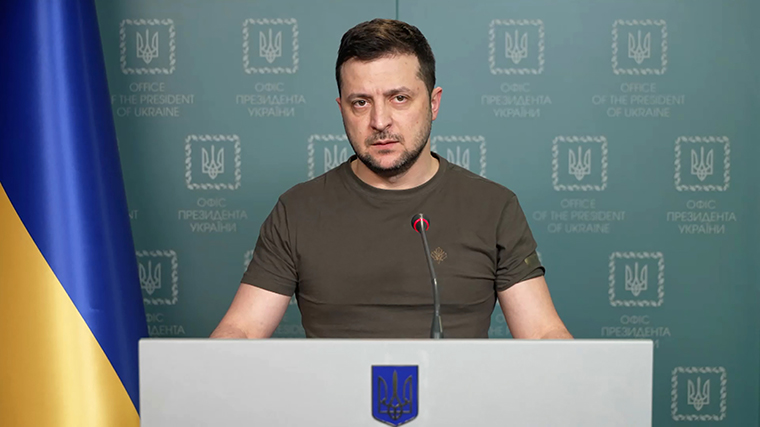 Speaking in a video posted on Telegram on Tuesday, Ukrainian President Volodymyr Zelensky addressed reports of an internal UN email advising staff not to refer to the Russian invasion of Ukraine as a "war." 
"You may have seen in the news today the story that the United Nations allegedly does not consider the Russian invasion a war. I know this outraged many, and not only in Ukraine," Zelensky said. 
"I am grateful to our team. We made everything clear and quickly received assurances: there will be no lies in the UN structures. There will be no playing along with the aggressor. The word "war" will be heard on this site. Because that is the truth. We will not allow anyone in the world to ignore the suffering and murder of our people, our children," he added.
The United Nations in New York, for its part, walked back the email contents in a Tuesday news briefing, with UN spokesperson Stephan Dujarric saying that an unnamed regional office should not have issued a memo warning staff to not use the words "war" or "invasion" to describe what is happening in Ukraine, "because there are no official instructions on what words saying those things."
The UN spokesperson said UN Secretary-General Antonio Guterres has used the word "war" and so has his top political deputy in a tweet, saying, "This war is senseless."
33 min ago
The West will form new "Marshall Plan" for Ukraine, President Zelensky says
From CNN's Gena Somra
Speaking in a video posted on Telegram on Tuesday, Ukrainian President Volodymyr Zelensky thanked British Prime Minister Boris Johnson for committing to a new "Marshall Plan" for Ukraine and indicated the West will form the support for the plan.
There will be a new Marshall Plan for Ukraine. The West will form this support package. The British Prime Minister said this today. A man of his word, a sincere friend of Ukraine," Zelensky said.
The Marshall Plan was an initiative to rebuild Western Europe immediately after World War II in an attempt to stave off Communist influence, according to the US Office of the Historian, Foreign Service Institute.
"We are already expecting tough decisions from the European Union. Sanctions. Against Russia. For this war. For this aggression, which its authors will regret. They will. For sure. That is why it is so important that the Russian leadership realizes that the world will follow the example of the United States, Great Britain, the European Union, Canada, Australia, Japan and other free countries. So, the world cannot be fooled. Sanctions cannot be avoided," Zelensky added.
The Ukrainian president also said he is grateful to the UK for offering to phase out the import of Russian oil and oil products by the end of 2022. Zelensky's comments come just hours after he spoke via video to the British Parliament.
Zelensky went on to thank Russian citizens who support peace saying: "I am grateful to those Russians who support us, take to the streets and fight. They are fighting daily for us and for themselves. Because they are fighting for peace.
"The war must end. We need to sit down at the negotiating table — honest, substantive, in the interests of the people, not obsolete murderous ambitions," Zelensky said.
58 min ago
Bank of Russia establishes new procedures for withdrawing funds from foreign currency deposits
From CNN staff
Bank of Russia announced new procedures for withdrawing funds from foreign currency deposits between March 9 and Sept. 9, 2022, limiting cash withdrawal to the equivalent of $10,000, Russian state media RIA reports.
"From March 9 to September 9, 2022, the Bank of Russia establishes the following procedure for issuing funds from foreign currency deposits or accounts of citizens: all customer funds from foreign currency accounts or deposits … the client can withdraw up to 10 thousand US dollars in cash, and the rest of the funds — in rubles at the market rate on the day of issue," the statement read. 
During the period of this temporary order, the currency will be issued in US dollars, regardless of the currency of the account. Conversion of other currencies to USD will be at the market rate on the date of issue. Russia's Central Bank notes that citizens can continue to keep funds in foreign currency deposits or accounts, RIA adds.
Currently, 1 Russian Ruble is equivalent to $0.0078 in US dollars.
1 hr ago
State Department official: "Russia is trying to up the ante and broaden its demands" in Iran nuclear deal
From CNN's Jennifer Hansler and Kylie Atwood
A top State Department official said Tuesday that "Russia is trying to up the ante and broaden its demands" regarding the Iran nuclear deal "and we are not playing 'Let's Make a Deal.'"
Undersecretary of State for Political Affairs Victoria Nuland's comments come after Secretary of State Antony Blinken said earlier in the day that Moscow remains engaged in the effort to salvage the Iran nuclear deal, despite a recent demand by the Russian foreign minister for written guarantees that sanctions imposed for its invasion of Ukraine will not its impact future dealings with Tehran.
Nuland said "no" when asked at a US Senate Foreign Relations Committee hearing if the administration has provided any written guarantees to Russia that their trade, investment or military cooperation with Iran will not be subject to sanctions.   
In his public comments, Blinken has stressed that the Ukraine and Iran nuclear deal issues are "totally different" and "not in any way linked together." 
However, when asked by Sen. Todd Young, a Republican from Indiana, if "anything about your negotiations with the Russians changed as a result of their invasion of Ukraine," Nuland replied: "Senator in this open setting, I will simply say that you are right. Russia is trying to up the ante and broaden its demands with regard to the JCPOA and we are not playing 'Let's Make a Deal.'"
Nuland said the US is not negotiating with Russia "vis-à-vis" Iran and echoed the top US diplomat that Russia and the US share the "same strategic objective" when it comes to efforts to salvage the nuclear deal: to ensure that Iran is never able to get a nuclear weapon.
43 min ago
Sanctions on Russia must not include ban on Russian energy imports, Hungarian prime minister says 
From CNN's Emmet Lyons and Sugam Pokharel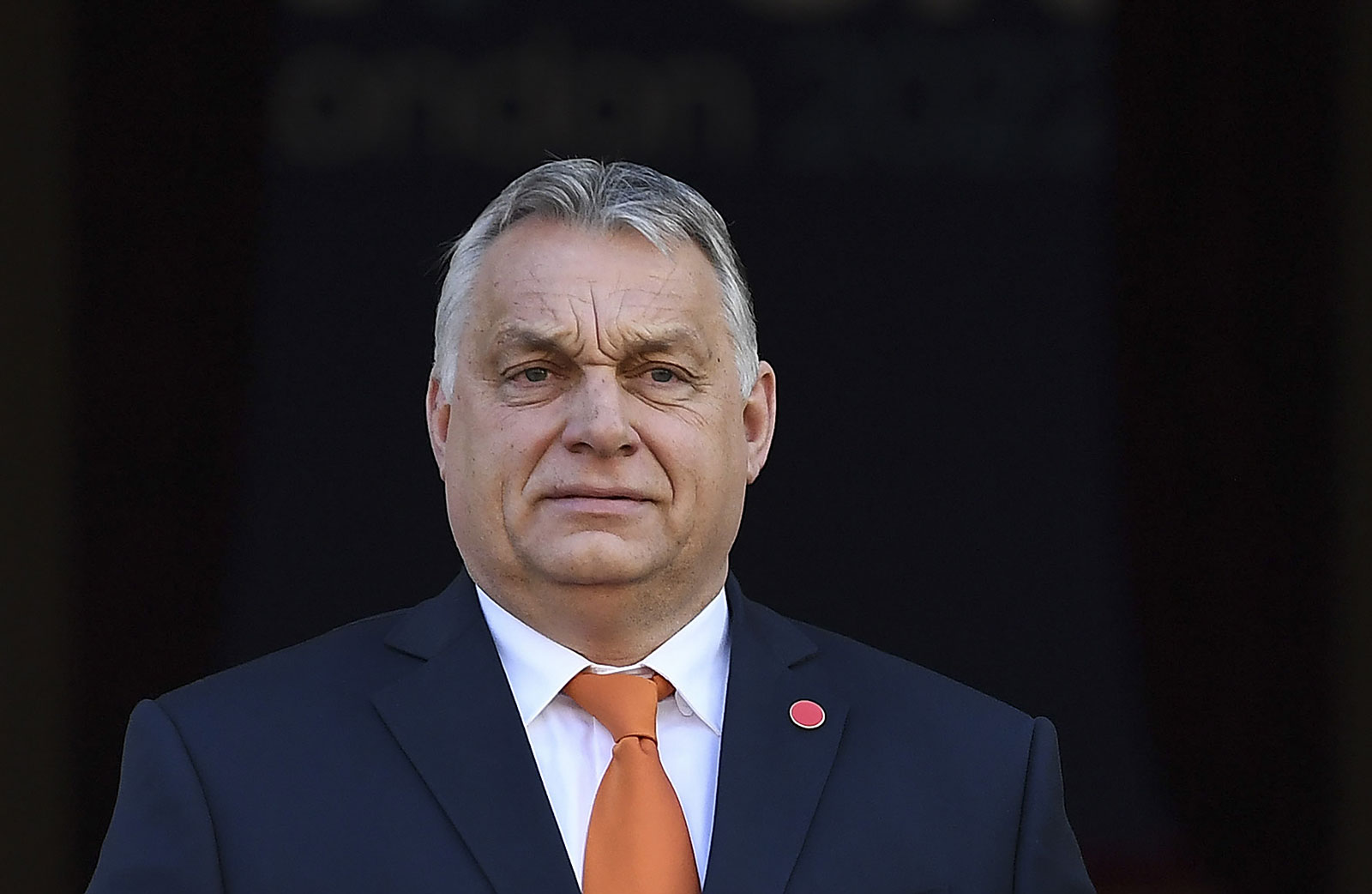 Hungarian Prime Minister Viktor Orban said Tuesday that while Hungary condemns Russia's attack on Ukraine, it doesn't support sanctions against Moscow covering ban on Russian energy imports.   
"While we condemn Russia's armed offensive and we also condemn the war, we will not allow Hungarian families to be made to pay the price of the war; and so the sanctions must not be extended to the areas of oil and gas," Orban said in a statement following bilateral talks in London with British Prime Minister Boris Johnson.  
The extension of the sanctions to the Russian energy sector would represent a "disproportionately large burden" for Hungary, he said.  
Most of Hungary's oil and natural gas imports come from Russia, and 90% of Hungarian families heat their homes with gas, Orban said, stressing that the Hungarian economy "simply cannot function" without Russian oil and gas.
1 hr 16 min ago
Ukraine responds to Russia ceasefire proposal: "It is difficult to trust the occupier"
From CNN's Tim Lister in Kyiv and Oleksandra Ochman
In a brief response to Russia's new ceasefire announcement, the Ukrainian Armed Forces noted that "the Russian side announces a 'silence regime' for the opening of humanitarian corridors tomorrow, March 9, from 9:00 am in Kyiv."
In a Telegram post, the Armed Forces said that "Russia will request that Ukraine agree on the routes and opening hours of humanitarian corridors and notify representatives of foreign embassies, the UN, the OSCE, and the Red Cross by 02:00 in Kyiv on March 9."
But it ends: "It is difficult to trust the occupier."
More on Russia's announcement: Russia announced a new ceasefire starting at 10 a.m. Moscow time (9 a.m. Ukrainian/2 a.m. ET) Wednesday, saying it's ready to provide evacuation corridors from Kyiv, Chernihiv, Sumy, Kharkiv and Mariupol, along with other towns negotiated with the Ukrainian side.
Russian media reported the ceasefire parameters quoting the Russian Coordination Headquarters for Humanitarian Response in Ukraine.
1 hr 34 min ago
Zhytomyr mayor claims apartment building and vital textile factory destroyed by Russian military strikes
From CNN's Paul P. Murphy and Josh Pennington
An apartment building and a major textile factory in Zhytomyr, Ukraine, were destroyed by Russian military strikes, Mayor Serhii Sukhomlyn said in two video messages posted to Telegram.
Sukhomlyn said that a dormitory, which was used by retired Army soldiers and civilians, was destroyed. He did not have any information on fatalities from the military strike at this time. 
In another video, Sukhomlyn said that a textile factory in the city, which manufactures roughly 70 percent of all cotton wool in the country, was destroyed by Russian military strikes.